AI in Telecom: How Does it Reshape the Industry?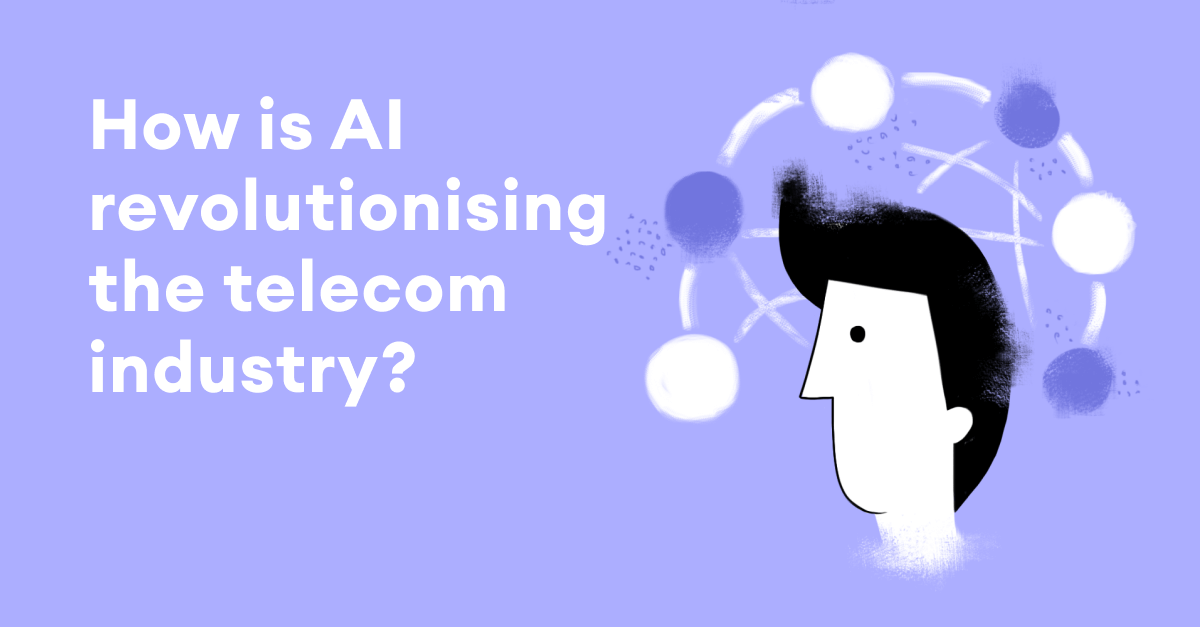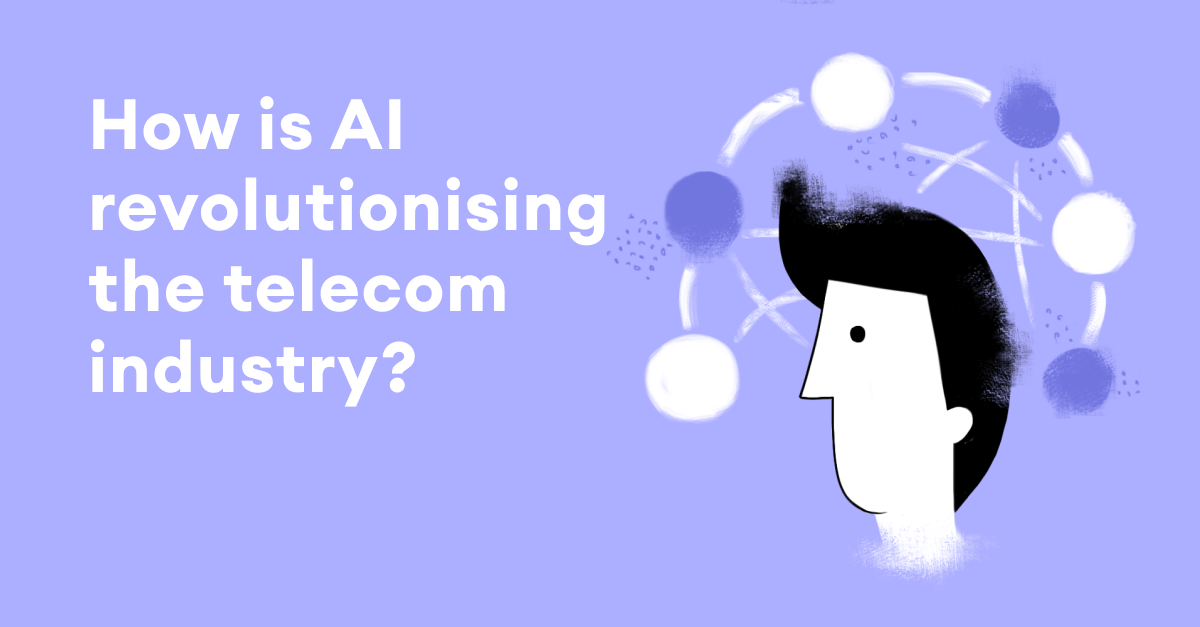 In an age of rapid technological advancement, it is time for telecommunications companies to define their role in today's hyper-connected world. AI is one such technology that has the potential to dramatically change and empower the telecom industry.
To stay afloat in a fiercely competitive environment and to meet ever-increasing customer demands, mobile operators must embrace emerging new technologies. Let's take a look at the opportunities and benefits that artificial intelligence could bring to telecommunications in the near future and explore some real-life examples.
AI in the telecom industry
Telecommunications is one of the fastest-growing industries that uses AI in many aspects of their businesses, including improving customer experience and network reliability. Today, 63,5% of telecom companies are actively implementing AI to improve their network infrastructure.
The main aspects driving this market are increased investment in 5G infrastructure deployment, the growing adoption of conversational AI technologies and the growth of Internet of Things (IoT) applications. Valuates estimates that global AI in the telecommunication market size will reach $14,99bn by 2027, from $11,89bn in 2020, at a compound annual growth rate (CAGR) of 42,6% during 2021-2027.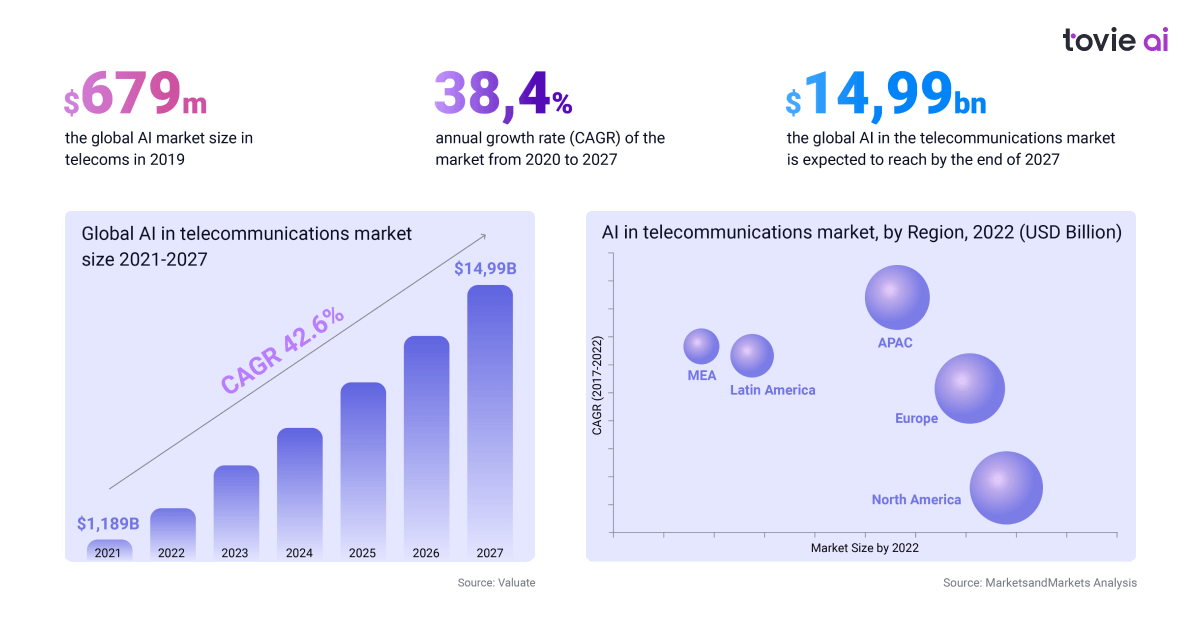 The telcos' challenges for the future
Despite the rapid market evolution, adoption of AI is still a challenge for many companies. More often than not, companies fail to understand the value of implementing AI, need additional technical expertise, and cannot identify suitable business cases.
Operational costs
Timely management of data collection and analysis has high operational costs. The workforce requires additional resources and tools to ensure quality work without compromising the company's image.
Customer demands
Telecommunications service providers face daily challenges in communicating with customers in real-time or on-site, sometimes making them lose trust in the company. In this crisis, responsiveness, personalization and omnichannel communication are more important than ever.
Security and data breaches
Numerous surveys show that people remain hesitant about the security of their data and fear identity theft and financial loss. There is a need to make the environment safe and secure for customers, which in the long run will help prevent any data breaches.
What are the applications of AI in telecommunications?
The application of AI in the telecom industry can increase productivity, improve customer service, and support the development and deployment of new services. Today, telecommunications companies are directing their investments in artificial intelligence towards solutions that help them overcome challenges.
Here are some of the most common applications:
Conversational virtual assistants
​​Virtual assistants will help telecom service providers save $1.2bn on customer service management in 2022, delivering a CAGR of 17% over the next five years.
Today, telecom service providers have turned to virtual assistants to streamline the processing of customer support requests, offload call centres and even sell new services. Furthermore, virtual assistants can increase customer loyalty by resolving up to 70% of their queries at an impressive speed.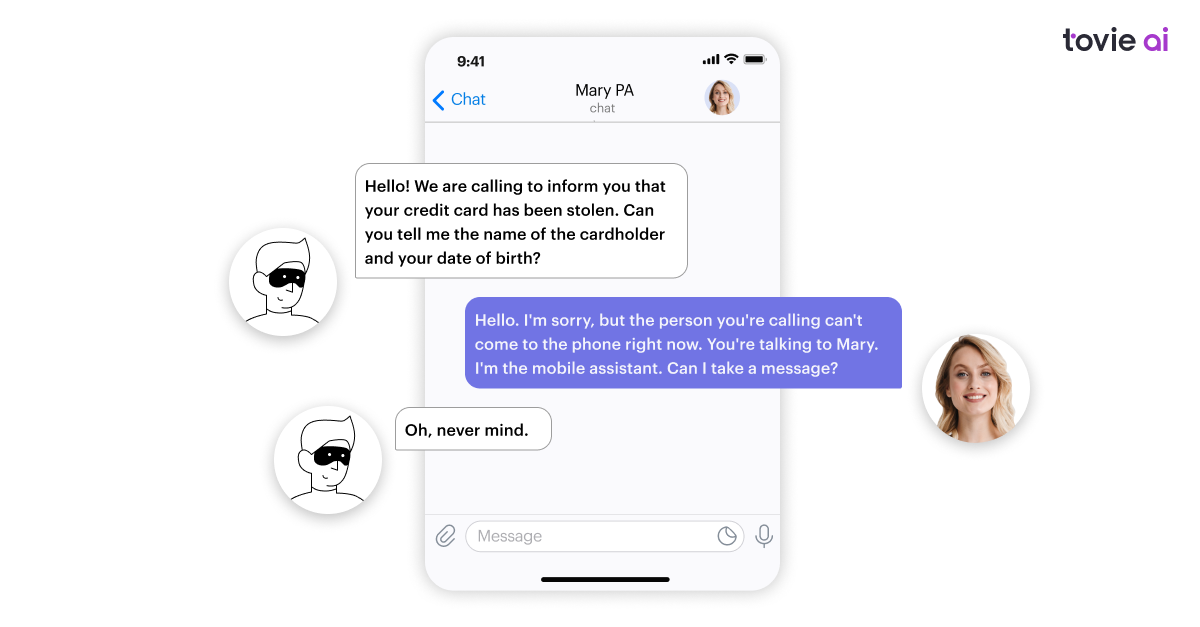 Fraud detection and prevention
Telecommunications is among the industries most vulnerable to cyber fraud schemes and cybersecurity breaches. The cost of such fraud is estimated to be $29bn a year.
Telecom fraud aims to steal money from operators and their customers. A classic example of such fraud is the robocall scheme. Robocalls may seem innocent at first, but attacks from this simple fraud scheme alone cause $0.9bn in losses to the entire industry each year.
Telecommunications fraud detection and prevention should focus on three key areas:
Screening and weeding out dishonest resellers

Protection of business revenues

Confidence in subscriber protection against scam calls and robocalls
It is in the third area that Tovie AI can help. Learn more about the Mobile Personal Assistant, which identifies the purpose of the call and protects against spammers.
Robotic Process Automation
Robotic process automation (RPA) is a technology that configures computer software to collect data and manipulate applications the way humans do. With RPA, telecom service providers can automate internal operations such as data entry, reconciliation or verification, customer support, and cross-sell and up-sell with AI-enabled calls.
RPA applications enable content services platforms (CSPs) to reduce costs, increase accuracy, efficiency, and improve customer service. Grand View Research estimates that the global robotic process automation market will reach $11bn by 2027, growing 34% between 2020 and 2027.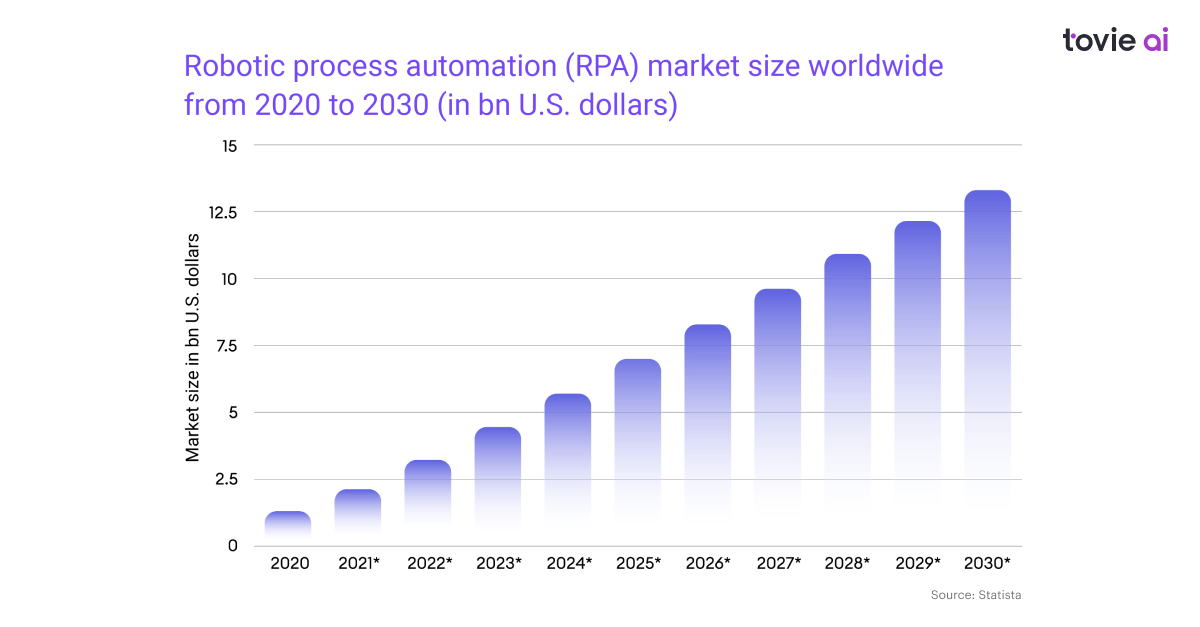 Telecommunications providers need AI-driven solutions
In recent years, more and more mobile operators have invested in AI. Most of them are launching AI-powered virtual assistants to solve individual problems, such as churn reduction, personalisation or customer service. We have gathered some great examples from all around the world.
Vodafone
Vodafone launched its personalised virtual assistant, TOBi, to engage with customers across four digital messaging channels. TOBi provides its AI assistance through a chatbot, which itself is software used to conduct personalised online chat or text-to-speech communication with customers.
In addition to its use at Vodafone, the chatbot is known for its unique features in many countries, where it is used as a travel guide or even as an HR assistant.

Deutsche Telekom
Deutsche Telekom is investing heavily in AI at various levels. Their chatbot for customer service, Tinka, has been helping users on the website and Facebook Messenger since 2015. Every month she has 50,000 conversations with customers and potential customers, answering 120,000 questions per month.
Orange Spain
Orange implemented a Visual Assistance to enable the contact centre to handle the number of calls related to requests for help with installation and configuration. Customers simply show an agent what they see through the smartphone camera. This allows the agent to identify the problem and visually advise the customer using a set of AR tools, resulting in faster and more efficient problem resolution and more satisfactory customer service.
See examples of AI introduction by Nokia, Lumen technologies and Telefónica in the AI in Telecommunication 2022 report
How to enhance telecom customer experience with AI chatbots and virtual assistants
The advantage of conversational AI in telecommunications is an improved approach to customer service. Because AI can handle an unlimited volume of calls, customers never have to wait for an agent in a call centre to speak to them. Nor are they likely to pick up the phone from a suspicious number that could turn out to be a scammer.
With the ability to integrate seamlessly into existing business systems, virtual assistants can also provide a personalised experience for customers, for example, informing subscribers about services that may be suitable for them.
To summarise, AI can help minimise additional costs and increase customer loyalty. Personalised service and collected data and allow telecommunications companies to provide subscribers with better products and services.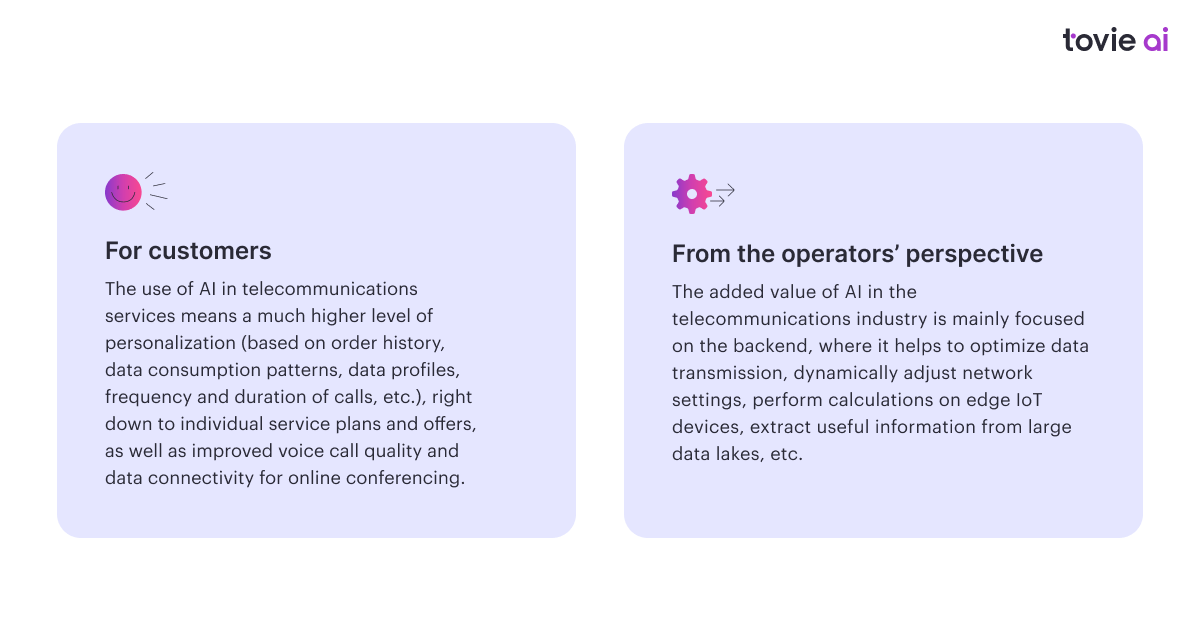 Mobile Personal Assistant
The Mobile PA is a solution designed specifically for telecommunications companies. From now on, subscribers can entrust inconvenient or suspicious calls to their virtual assistant. The service protects against spam calls and takes calls if a subscriber is unavailable to talk.
Learn how mobile operators improve customer satisfaction and generate revenue with conversational AI
Sign up for Tovie AI newsletter
Get the latest posts and fresh analytics delivered straight to your inbox