AI-powered chat and voice bots automate member journeys for the
Royal Institute of Navigation
Industry
Learned Societies / Charities

The Royal Institute of Navigation is a membership-based learned society head-quartered in London, UK
Background
The RIN is a leading center for promoting knowledge in navigation and its associated sciences. Institute has members in over 50 countries worldwide.
RIN leveraged AI to provide new members with a compelling experience to help them navigate a complex and growing set of membership routes, helping answer questions as they arise and onboarding prospects onto the right membership track for them.
An ever-growing set of membership options combined with a complex web navigation system has had a damaging effect on the average RIN visitors' experience. The RIN engaged with Tovie AI to revolutionize the way it attracted and engaged with potential new members.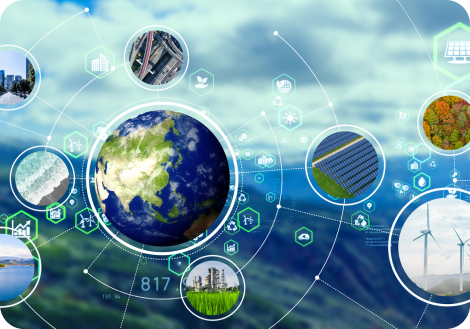 Goals
Enhance organization's existing digital experiences and automate low-value interactions with powerful Artificial Intelligence
Reduce operational costs and improve the member onboarding user experience by empowering self-service and self-discovery
Answer FAQs and communicate with members in real-time at scale
Support potential members through membership selection, add-ons, and onboarding
Drive online engagement and push members towards calls to action
Support physical and digital events with real-time answers to member questions
Based on a brief conversation held between the virtual assistant and a potential customer,
the assistant can recommend the membership type that will best align with the customer's needs, walk them through the onboarding process and answer any questions they might have along the way.
1

The Tovie AI team analyzed the challenges RIN's customers faced while navigating the existing membership journey.

2

Mapped out all membership routes and created a different set of path scenarios for each possible membership.

3

Implemented custom conversational web & mobile interface into the existing RIN infrastructure channels in just 1.5 months.
Today, the assistant is an integral part of the RIN organization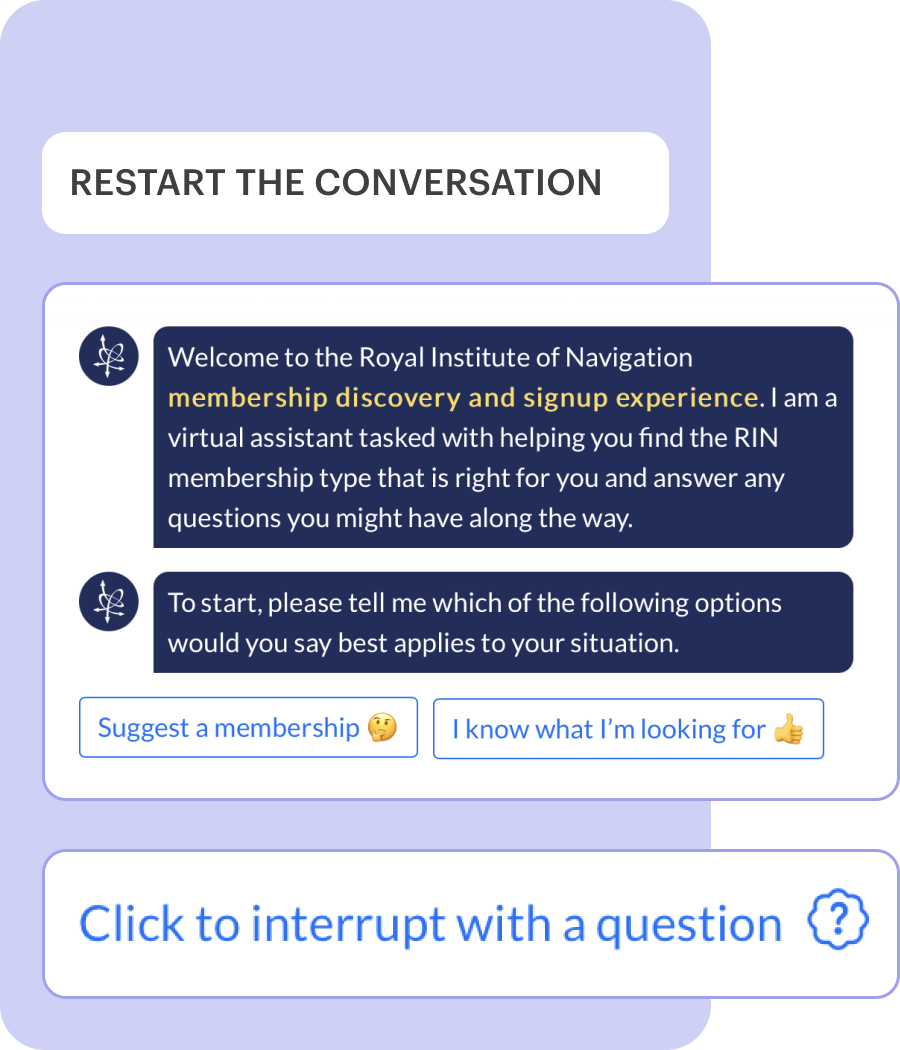 The assistant carries users all the way through to the sign-up process making sure no one falls out. It is able to understand complex queries and context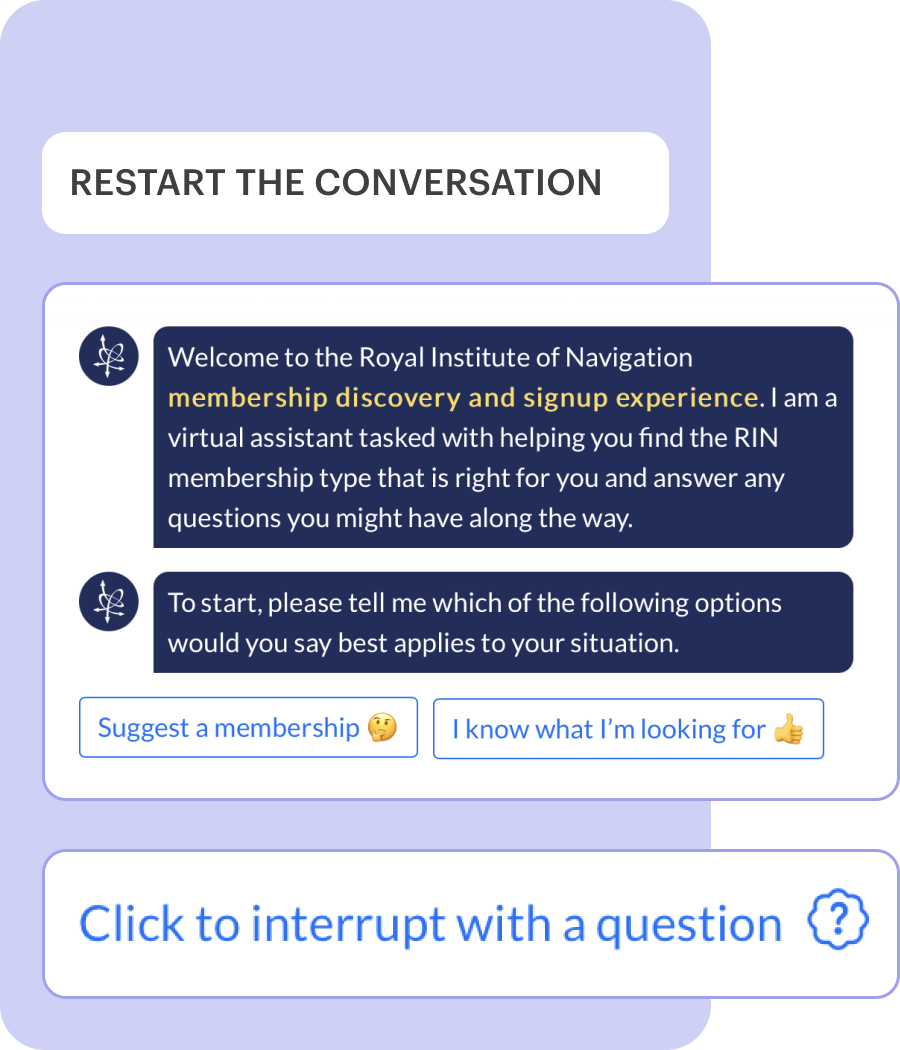 RIN users can interrupt assistant when they have questions about memberships, payments, and a variety of other topics.
After answering a question, the assistant brings a user back to the core membership onboarding process.
+
20% growth in membership conversion
+
Real-time resolution of questions during the sign-up process
+
Rich analytical insight into prospect behavior and questions
+
Reduction in RIN staff support hours surrounding onboarding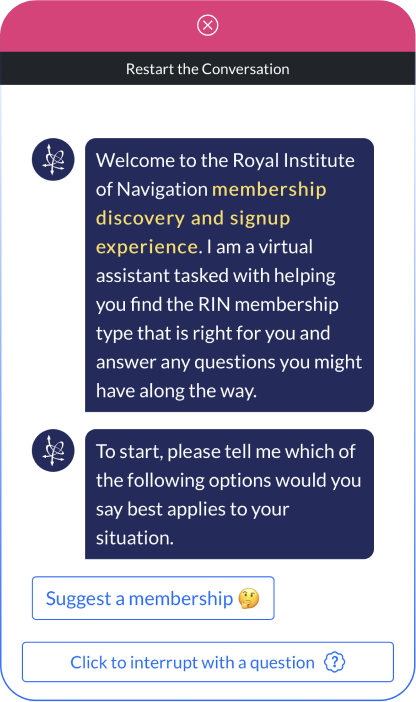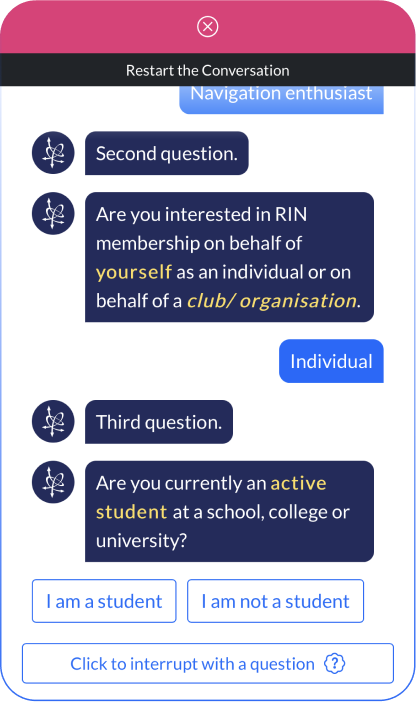 The first benefit we are seeing from Tovie AI's implementation is more insights into what our website visitors are looking for. We have already added multiple new answers based directly on customer-journey insights from Tovie AI. There are encouraging early indications that new sign-ups are trending positively above run-rate. The implementation was hassle-free and Tovie AI has integrated easily into our existing front-end and back-end systems.
Thanks to the assistant the Royal Institute of Navigation improved the efficiency of customer service and ensured customer satisfaction.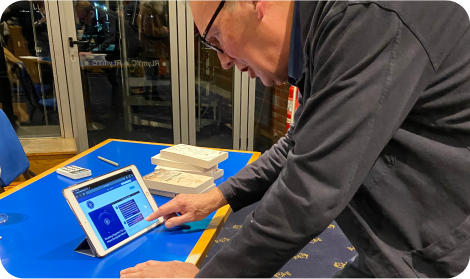 Today the assistant is also used for membership sign-up engagement at events.