Lower contact centre costs with AI Voice Bots and Smart IVR
Automate inbound and outbound calls to take the load off human agents and dramatically reduce wait time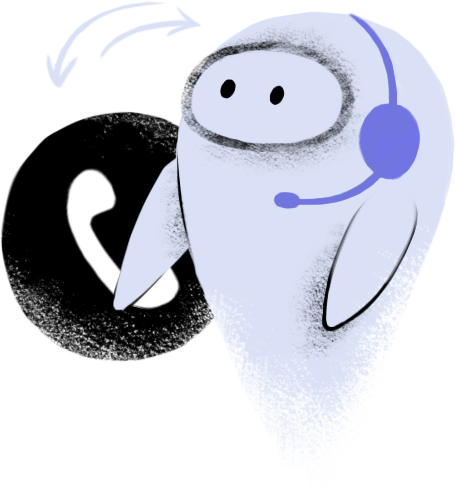 Challenge
There are times when contact centre staff cannot cope with the workload: peak times, after-hours calls, and seasonal call campaigns. Customers cannot get through which results in frustration and churn
Solution
AI-powered voice bots answer multiple calls 24/7, hundreds of simultaneous outbound calls, take phone calls outside business hours and take a load of routine questions off human agents
Results
Higher first-call resolution rate, reduced costs, lower wait time, and increased customer satisfaction
Conversational AI voice bots are not robocalls
Unlike robocalls AI voice bots:

AI-powered voice bots suit contact centres with any operation volumes: from giants comprising 10,000+ agents to operations with 1-2 staffers answering just a couple of customer inquiries. Pick the case that is right for you.
>45
time-saving and productivity growth
~90%
the bot handles most of the recurring inquiries
200+
simultaneous dialled calls
35%
average conversion per service order
Personal assistance
Schedules appointments
Bookings, tickets, orders, etc.
Rebookings and cancellations
Transfering calls to agents
AI-powered Smart IVR
Automates call routing by topic and department
Researches the knowledge base to find answers to problems
Clears up any confusion
Сomplaints and filling out applications
Identifies the problem
Records the necessary data
Organises requests in CRM
Notifies agents via email
First-line support
Recognises issues during a conversation
Resolves common problems
Assigns complex tasks to agents
Integrates with customer service software like Zendesk
Outbound calls automation
Upsales and promotions
Provides brief information
Shares promo codes
Stores responses in CRM
Encourages orders and purchases
Feedback collection
Runs a complex script with multiple answers
Calls back for clarification if needed
Logs data to database
Presale and telemarketing
Talks like a human agent and asks questions
Answers FAQs
Handles objections
Saves results in CRM
Reminders of all kinds
Informs customers about order status
Adds variable data to the script
Logs customers' decisions
Changes time and delivery dates when asked
Smart IVR outbound call automation:
undestands natural language, offers human-like assistance, efficiently resolves customer queries
Regular IVR Systems
Helps attribute inbound calls with IVR menu
Identifies customers and calls them by name
Can handle up to 1000+ simultaneous calls
Transfers calls to available agents, and asks to hold on the line during peak times
Smart IVR by Tovie AI
Actually resolves customer queries, rather than simply transfers calls to agents
Can speak in different voices and with different intonations
Communicates in a natural language which makes navigation effortless for customers
Understands several languages and seamlessly switches between them
Can come with a custom branded avatar
Expresses empathy, jokes and even gently interrupts when necessary
Menu based IVR
Conversational IVR
Bot successfully handles customer objections
Bot persuades the customer to try new service
Bot informs the customer about a new service option available
These are real-life examples, we do not disclose brand and product names for privacy reasons
Technologies that make Tovie AI voice bots stand out
Built-in NLU core for natural language understanding
ASR (Automatic speech recognition) / TTS (Text-to-Speech) technology
Prebuilt user behaviour patterns
API connectivity
Ready to transform your contact centre with Tovie AI?
Want to learn more? Get our free ultimate guide on voice bot technology!
Voice bot AI is becoming more and more omnipresent in our day-to-day lives. We talk to virtual agents when calling our bank's contact centre or getting a seasonal bonus offering from our favourite flower shop. More businesses opt for contact centre automation with conversational technologies. Some 56% of contact centres name AI and robotics among the top technologies they plan to use in the future.
To help businesses find their way around voice bots, we asked industry professionals the most popular questions and busted the most common myths about contact centre automation. In this whitepaper, you'll learn when it is best to use voice bots, whether it is better to use a real voice AI bot or go with a speech synthesis, how to choose the right platform for call campaigns, which features make the bot's speech natural, how to assess the bot's effectiveness and whether the virtual assistants can replace call centre agents, and much more. Here are some of the questions we've answered for you.
What is a voice bot and why do businesses need them?
A voice bot is a smart virtual assistant that contact centres use for outbound and inbound calls. Among the main reasons why businesses employ AI-powered virtual agents are cost efficiency and the scalability of operations.
What to do before contact centre automation?
The first important thing is to determine the goals and objectives: whether it's about saving resources and cutting costs, or growing the business. The next thing is to plan the audience coverage, as automation is worthwhile if it significantly reduces employees' workload and saves resources. Finally, determining bot scenarios, based on which you'll be reaching the customer base, is also essential.
How does one choose the right vendor for voice bot automation?
At the start, it's important to consider companies that are ready to build a bot from scratch. As for the tools, it's better to go with some one-stop-shop of the platform.
How to make a bot sound natural?
Many companies are moving away from the original speech synthesis model. They use hybrid synthesis or similar technology and synthesise variables from pre-recorded voices. Then it sounds as natural as possible.
Does a virtual AI agent need a personality?
Many companies (mainly larger ones) try to associate the bot's name and voice with the company's brand. In this case, either the company's brand policies or the internal policies of the contact centre regulate the bot's personality. The company's brand management defines how the AI agent should speak, what it should convey to the customer and other basic things.