Voice bots 101: Everything you need to know about AI-powered contact centre automation. Part 1.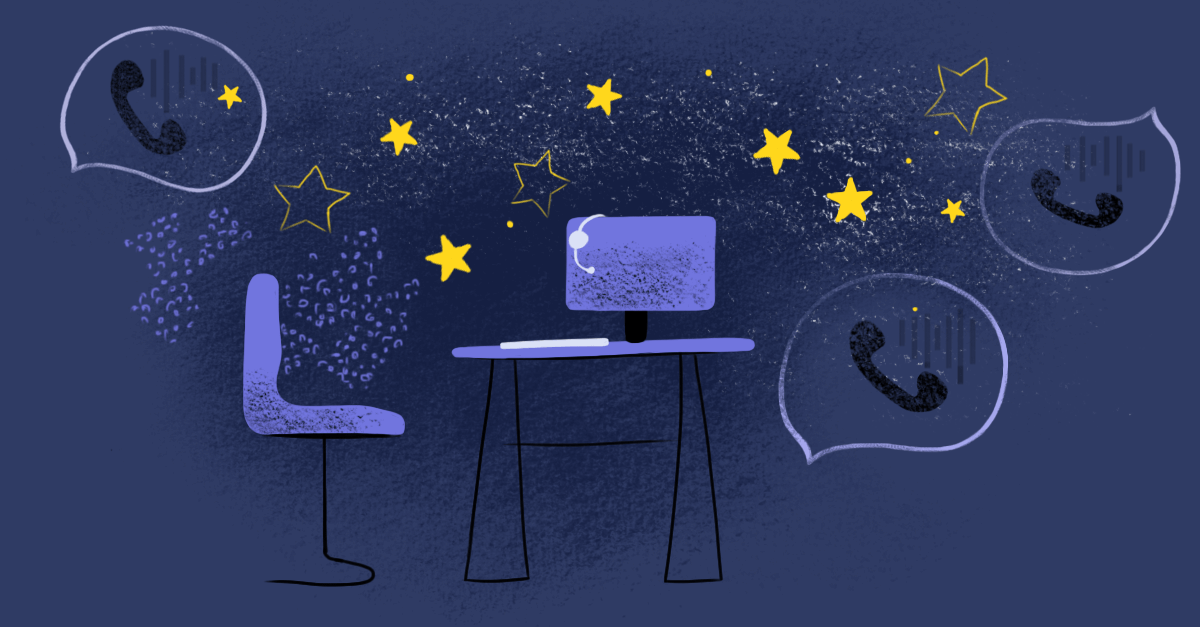 Three reasons why businesses opt for contact centre automation

When you hear about contact centres, the first thing that may come to your mind is a room full of agents at their desks simultaneously speaking to hundreds of customers. Stereotypes aside, a contact centre is a place where customers and businesses interact in real-time, with operation volumes and capacity varying greatly, from giants comprising 10,000+ agents to smaller operations with 1-2 staffers answering just a couple of customer inquiries.

Let's take a small fridge repair shop as an example. People call them for their service using the contact number listed in the shop's ads. Normally, a person who sells the service picks up the phone and asks all necessary questions, discusses the details, schedules a repairman's visit, and passes the information on to the employee who coordinates the repairmen. These are actual tasks carried out by the contact centre, that is, taking a lot of phone calls or inquiries via several communication channels (emails, chats, messengers); answering them there and or transferring the task to an expert; making communication as seamless for a customer as it can be (calling back at a convenient time, following up, sending necessary information via text channels).
Sooner or later, companies realize they need or are sometimes forced to automate these tasks and hand them over to AI call centre agents. Either because humans cannot cope with the workload or because the questions inquired are routine and mundane, with bots in place, human agents can spend more quality time on complex tasks instead. So when do these businesses need automation?

Frequently Asked Questions and routine tasks
It may come as a surprise, but most businesses do not want to get rid of all contact centre agents and replace them with intelligent virtual ones. On the contrary, they constantly need to hire and train new ones. Being on the receiving end of customer queries is hard work and 74% of call centre agents are at risk of burnout. This affects agent productivity forcing businesses to either re-train employees or hire new ones.
Customers want the best treatment possible: they expect empathy, care, and commitment. Receiving this level of service, there is a higher chance that customers will remain loyal to the brand. For example, there are often difficult circumstances where human-to-human interaction with clients is crucial, as dealing with the problem, even conducting a mini-investigation to solve the problem is something intelligent virtual agents are not yet well equipped to do by themselves.
It is often the case that human employees find themselves immersed in time-consuming routine tasks and find themselves physically unable to provide these levels of service. Speaking about the contact centre of the aforementioned fridge repair service, its agent has to call all the customers, confirm the repairman's visit and clarify the details. But if an AI voice bot starts making or receiving "simple" calls instead ​​— since it is not subject to the same routine — the human agent will have the time to focus on better quality of communication when faced with complex time-consuming queries from customers.
Calls outside business hours

If a company works '9-to-5' five days a week, that doesn't mean that customers don't call after hours. The easiest solution for such cases would be to add an answering machine that will ask to call back during working hours, offer to cancel an order or appointment, record a voice message with a question, and so on. To handle customer requests after hours more accurately, smart virtual agents should be the ones to take the calls.

High call volume

There are situations when the volume of calls is so high that call centre agents fail to handle them. For example, a power outage occurs and lots of refrigerators simultaneously break down, and that very repair shop begins to receive a lot of inbound phone calls from people asking for a fridge to be repaired. The human agents cannot physically process all of the requests, which is not a problem for a voice bot, as it can take as many calls as needed.
This goes both ways, sometimes you need to call many customers at once: for example, a company launches a birthday promotion and offers customers a discount. To call the company's 10,000 customers, contact centre agents would have to spend several weeks, but for companies with millions of customers, it's close to impossible, especially if it has to be done quickly. As in the previous example, a voice bot can easily do the job (provided it is built on a cloud platform that allows many simultaneous outbound calls).
Seasonal businesses like air conditioning maintenance, auto repair shops, flower stores, etc. find themselves in a similar situation. They have a standard load during the year, but once or twice a year they get a flurry of calls that the human agents cannot cope with, and customers do not get through. With conversational AI agents taking the calls, everyone gets through, and companies with contact centre automation eventually win.
Learn more about contact centre automation here.