Transform the Healthcare service with Conversational AI
Provide your patients with personalized care powered by human-like medical bots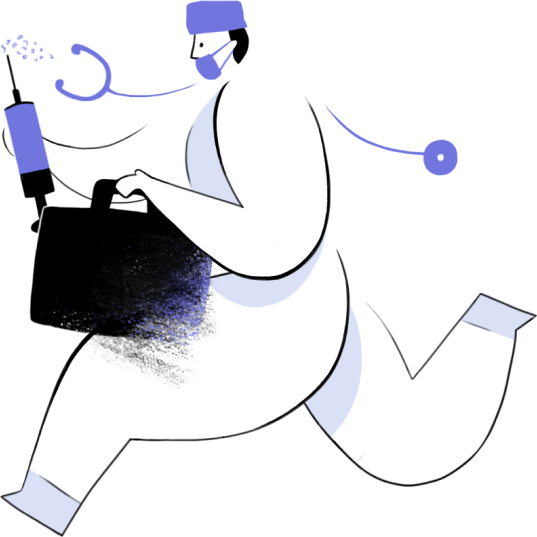 In the healthcare industry, human touch matters more than any other
Conversational AI is the future of the patient-centered approach to healthcare. In Tovie AI, we provide patient-physician contact at a distance, as well as remote care, monitoring, and patient admission.
24/7/365 service
Deeper insights
Empathetic support
Personalized treatment
Scalable solutions
Reduced diagnostic errors
90%
of U.S. hospitals will use medical bots to improve their quality of care by 2025
by 15%
is projected growth of the global virtual diagnostics market by 2027
18m
shortage of trained health professionals by 2030
41%
of healthcare executives admit AI will have the greatest impact in coming years
Provide patients with accessible telemedicine tools
Acquire
Make booking accessible
AI-powered patient-facing solutions enable patients to book appointments and reschedule on the go. Optimizing doctor appointment operations is a cross-cutting application across healthcare, helping both healthcare staff and patients.
Engage
Answer FAQs
Surround patients with care by instantly answering their questions. Medical chatbots are designed for specific cases to advise on insurance, symptoms, addresses, and staff availability.
Support
Online medical consultations
Automate the patient intake process by developing a conversational AI assistant capable of gathering information about patients' medical conditions through a conversational evaluation before introducing them to a member of the care team.
Enhance
Transform medical experience
Using the voice assistant's advanced speech-to-text algorithm, patients can easily transcribe doctor's prescriptions with the highest accuracy, receive reminders to take medications, or even discuss disease symptoms.
The patients already use voice assistants to address their health issues:
73%
ask about illness symptoms
46%
search for medication information
38%
look for hospital, clinic, or urgent care center location
28%
ask about nutrition information and look for a doctor
Get conversational with your patients
Serve patients effectively with a virtual assistant that mirrors human behavior
Onboards new patients to their Health Plan benefits
Gives clear explanations of insurance and medical terminology
Helps patients access benefits and coverage information
Helps patients find and schedule an appointment or connect with customer service