Empower your banking service using conversational AI
Modern customers need a two-way conversation with a bank when handling finances. Make it happen!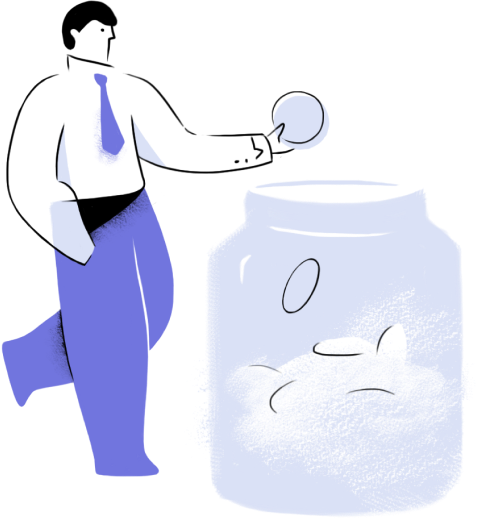 Statistically, 82%
of clients leave a company due to bad customer service
The financial services industry is becoming more and more competitive every year. Digital customer experience can make or break a bank's relationship with its customers. To provide personalized banking services, financial institutions need to streamline both internal and external experiences.
Tovie AI offers a wide range of voice and chatbots solutions for financial services, banks, and insurance companies.
AI in banking is paying dividends
45%
of consumers ask for voice assistant features in their favorite mobile apps
88%
is the average satisfaction rate of bot-only chats
91%
respond positively to a banking chatbot
75%
of customers spend more money with brands that offer chatbot
Banking at scale with Tovie AI
Acquire
Obtain omnichannel communication
Deliver a consistent customer experience across all offline and online channels with banking bots.
Fully integrated with the CRM system, a financial chatbot always knows what your customers said in WhatsApp and what's the best credit card options based on their profiles info.
Engage
Skyrocket Retention rate
Make clients spend more time in your app. Provide them with a banking chatbot to answer FAQs and a voice assistant to make money transfers, check balances, and more new services.
Support
Provide 24/7 support
Your hotline agents don't have to work 24/7 to provide the best customer service. Be sure that AI-powered agents will answer FAQs, send reminders, and consult clients round-the-clock.
Enhance
Relieve call centre operations
Don't make customers wait on hold while the hotline gets loaded with repetitive questions about loans, credit, insurance, and other financial services.Organize the process the way it should be organized - let the voice assistant talk to customers and the hotline agents can spend time handling difficult cases.
Leading fintech companies streamline their services with Tovie AI
24/7
of consumers ask for voice assistant features within their favorite mobile apps
$127m
AI-powered bots saved banks in 2019
90%
of customer interactions could be automated in banks with the chat option by 2022
$7.3bn
in operational cost savings banks will get from using bots by 2023
Case
The callbot that never misses a call
A fintech callbot handles inbound calls in Brazilian and Portuguese languages
Takes phone calls instantly
Recognizes live speech, slang, and synonyms
Answers FAQs and insurance questions
Teaches how to collect insurance money

40%

Contact center load dropped

-30%

Number of inbound call agents declined

-20%

Missed calls reduced

38%

Increased automation of processes

21,000

Monthly sessions are handled by callbot